Tufts Doctor to Receive National Kidney Foundation Honor
|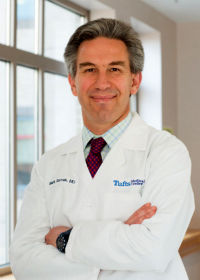 Mark J. Sarnak, MD, will be honored with the distinguished Dr. Shaul Massry award at the National Kidney Foundation's Spring Clinical Meetings in Las Vegas this April.
The Dr. Shaul G. Massry Award honors scientific achievements and contributions to the kidney healthcare community and the National Kidney Foundation. Dr. Sarnak is being honored for his research on the relationship of chronic kidney disease to aging, cognition and cardiovascular disease.
"I feel extremely honored and humbled to be receiving this award, which honors Dr. Massry's tremendous scientific achievements and contributions to nephrology," said Dr. Sarnak.
Dr. Sarnak is a Professor of Medicine at Tufts University School of Medicine and Director of the Research Division of Nephrology at Tufts Medical Center. He is currently researching cognitive impairment in dialysis patients. The research will aid the development of tests that will recognize mental issues early to prevent the decline of cognitive function in kidney patients.
Dr. Sarnak has been funded by the NIH for the last 13 years and is the author of more than 200 publications. He has been named on Boston Magazine's Best Doctors list from 2010-2012.
"At heart I am a clinician, and taking care of patients with kidney disease, helping them to deal with their medical problems is what drives me and my work," he said. "There is a high prevalence of chronic kidney disease in the U.S., patients with kidney disease suffer from significant morbidity and mortality. We need to be devoting more resources to kidney disease research to help this growing patient population."
The National Kidney Foundation Spring Clinical Meetings take place April 22 – 26, 2014 at the MGM Grand in Las Vegas. For more information, visit www.nkfclinicalmeetings.org.
The National Kidney Foundation (NKF) is the leading organization in the U.S. dedicated to the awareness, prevention and treatment of kidney disease for hundreds of thousands of healthcare professionals, millions of patients and tens of millions of Americans at risk. For more information, visit www.kidney.org.
– Information and photo from the National Kidney Foundation