Lady Mustang Hockey Team Ready for 2-Game Home Stand
|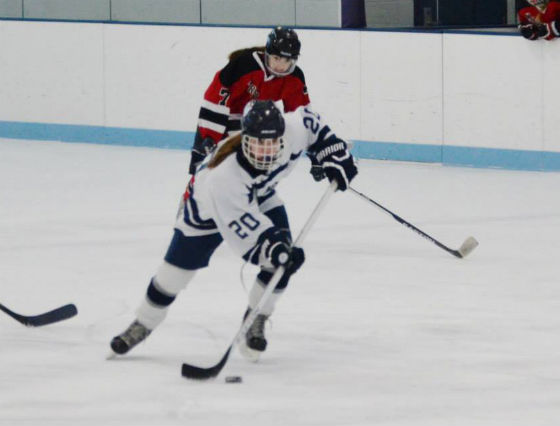 The Medford High girl's varsity hockey team is set to open up a two-game home stand at LoConte rink.
First up is Peabody/Lynnfield on Saturday at 2pm. Peabody/Lynnfield enters the game with a record of 3-10-1. This is the first of two match-ups with Peabody/Lynnfield this season, according to Assistant Coach Josh Glionna.
The Lady Mustangs will also host Beverly/Danvers on Wednesday, February 12th at 7pm. Beverly/Danvers currently has a record of 11-2-1. Last month Beverly/ Danvers defeated Medford 5-2 at Salem State University.
The Lady Mustangs have five games remaining in the regular season. The team currently has a five game winning streak and a record of 7-7.
Senior Night is Monday, February 17 when the Mustangs take the ice against Watertown. Puck drops at noon at LoConte Rink. Seniors Brittani Lanzilli, Marissa Williams, Alex Barilone, Jackie Holmes, and Kaleigh O'Donovan will be honored.
Pictured: Ailish Fallon. Photo by Judy Baruffaldi.
– InsideMedford.com