Tufts Top School for Peace Corps Volunteers
|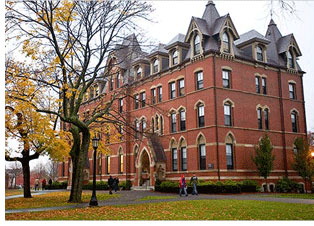 The Peace Corps released the 2014 rankings of the top volunteer-producing colleges and universities across the country. This year, Tufts University ranked No. 9 among medium schools, with 24 undergraduate alumni currently volunteering worldwide. In 2013, Tufts ranked No. 15.
Tufts alumni are currently serving as volunteers in Belize, Benin, Burkina Faso, Cameroon, China, Ethiopia, Ghana, Guyana, Jamaica, Jordan, Kenya, Kyrgyz Republic, Madagascar, Mozambique, Nicaragua, Panama, Peru, Senegal and Swaziland. They work in areas including education, environment, health, community economic development and youth development.
"The same passion that launched the Peace Corps more than 50 years ago fuels progress in developing countries today thanks to the leadership and creativity that college graduates bring to their Peace Corps service," Peace Corps Acting Director Carrie Hessler-Radelet said. "The unique Peace Corps experience helps recent graduates cultivate highly sought-after skills that will launch their careers in today's global economy."
Since the first days of the Peace Corps, 541 Tufts alumni from have traveled abroad to serve as volunteers.
"Tufts is exceptionally internationally focused. Many of my classes included international case studies, some from Africa," said Eric Wilburn, a Tufts alumnus who is currently serving as a Peace Corps volunteer in Mozambique. "Within my community, I have constructed a library at a local primary school and am starting a reading tutoring program using my secondary school students as volunteers to work with the primary school students."
Tufts alumna Hyomi Carty is also serving in Africa. "Being in Swaziland has really made me think twice about certain things and offered me perspective I never would have had if I hadn't immersed myself in a different culture."
Other Boston area schools ranked as Peace Corps' 2014 Top Colleges, including Boston University, which was No. 25 among large schools; Boston College, which was No. 8 among medium schools; and Brandeis University, which ranked No. 14 among small schools nationwide. Also, in 2013, the greater Boston metropolitan area ranked No. 7 nationwide for the highest number of Peace Corps volunteers; 170 currently-serving volunteers were from the Boston-Cambridge-Quincy area.
Service in the Peace Corps is a life-defining, hands-on leadership experience that offers volunteers the opportunity to travel to the farthest corners of the world and make a lasting difference in the lives of others. Peace Corps volunteers live and work at the community level and promote a better understanding between Americans and the people they serve, while at the same time becoming global citizens.
When they return home, volunteers bring knowledge and experiences that give them a competitive edge for 21st century jobs and advanced educational opportunities. They give back to their own communities and enrich the lives of those around them, helping to strengthen international ties and increase our country's global competitiveness.
The Peace Corps has eight regional recruitment offices across the United States that work closely with prospective volunteers to ensure that all Americans who want to serve have the opportunity to do so. The Northeast regional recruitment office serves Tufts University, and Peace Corps recruiters are based throughout the region. Find the recruitment office near you by visiting the Peace Corps website here.
The Peace Corps ranks the top volunteer-producing colleges and universities annually according to the size of the student body. Below find the top five colleges and universities in each category and the number of alumni currently serving as Peace Corps volunteers.