Bloomberg Donates Nearly Half Billion in 2013
|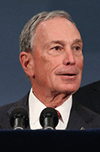 – Allison Goldsberry
Billionaire philanthropist and former New York City Mayor Michael Bloomberg donated nearly half a billion dollars to charity last year, according to a list compiled by Philanthropy.com.
Bloomberg, a Medford native, is ranked fourth on the list of fifty "most generous" donors of 2013. According to Philanthropy.com, he has directed his donations to arts, education, environmental, and public health groups as well as programs to improve city governments.
Bloomberg is also very active in supporting Mayors Against Illegal Guns, an organization he co-founded with former Boston Mayor Tom Menino to help reduce gun violence.
Bloomberg is a 1960 Medford High School graduate. He served three terms as NYC Mayor and finished up his last term at the end of 2013.