Trading Boston for Austin
|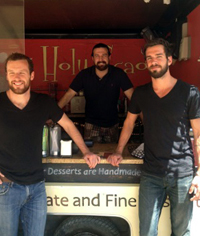 Three Medford Brothers Run Popular Dessert Truck
– Allison Goldsberry
Food trucks are having a big moment all over the country, including a "hot chocolate trailer" serving up sweet treats in Austin, Texas.
Holy Cacao was purchased by Medford brothers Joe, Matthew, and JohnPaul Doherty in April. They had originally headed to Austin to play music, says mother Patricia, but now they're known for serving up one of the best cups of hot chocolate in America. Both Yahoo and Travel and Leisure magazine have listed Holy Cacao as one of the top places in the country for hot chocolate.
While Medfordites sadly can't sample the creative beverages offered, a variety of cake balls are available to order online. The brothers have shipped their products all over the US. Order some for your Valentine and if they don't make it in time, blame the weather!