Lady Mustang Hockey Team Wins League, Qualifies for State Tourney
|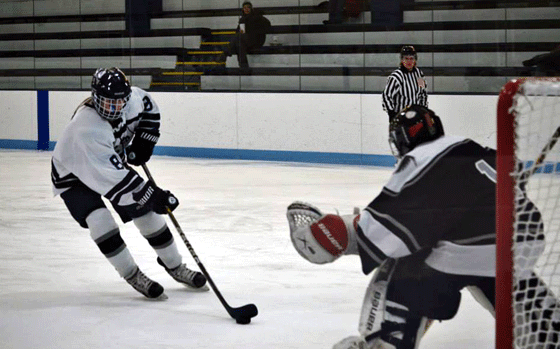 On Wednesday, February 19th the Medford High girl's varsity hockey team won the Northeastern Hockey League South title and received an automatic berth into the MIAA division one state tournament.
The Lady Mustangs clinched the league title by beating Peabody/Lynnfield 5-2. After Peabody/Lynnfield started the scoring three minutes into the game, Medford responded with the next five goals. Brittani Lanzilli scored twice, including a shorthanded goal. Marissa Williams scored on the power play, and freshmen Mia Price and Ailish Fallon added a goal apiece.
Mustang goalies Trisha MacLean and Ashley Rodriquez combined to make twenty-two saves to earn the victory. Courtney Smith scored her seventh and eighth goals of the season for Peabody/Lynnfield.
On Monday, February 17th Watertown/Belmont topped Medford 6-2. Junior forward Emily LoPrete's two goals and two assists paced the Watertown/Belmont offense. Medford's three captains Brittani Lanzilli (one goal, one assist), Marissa Williams (one goal, one assist), and Adrienne Porrazzo (one assist) provided the scoring for the Mustangs.
The Lady Mustangs will wrap up the regular season Friday against St. Joseph's/MT. Alvernia at 4:00pm at the Murphy Memorial rink in South Boston.
The MIAA girl's hockey division one state tournament bracket will be released Saturday, February 22nd at 11:30am.
– Information from Assistant Coach Josh Glionna. Photo of Mia Price by Judy Baruffaldi.