Bread and Percy: Brookford Farms' Beloved Baker to Visit Medford Farmers Market Thursday
|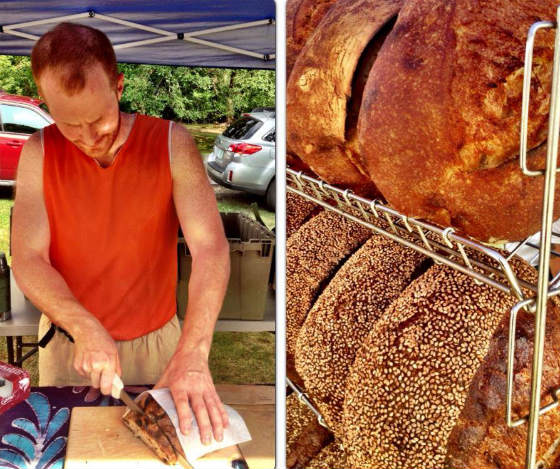 Just mention Canterbury Breadshop and watch people enter into rhapsodic celebration. Made with fresh flour milled from wheat grown on Brookford Farm in Canterbury, New Hampshire (yes, local wheat!), these loaves have developed a devout following at the Medford Farmers Market. And Canterbury Breadshop's baker Dane Percy has noticed! Medfordites are buying so much bread every week that he is coming to meet you Thursday, February 27, during the Winter Market (3-7 pm at the Hyatt Place Hotel). You can talk with him at the Brookford Farm stand.
According to the Concord (NH) Monitor, Dane learned how to bake bread at a community for people with developmental disabilities in Pennsylvania, where he learned how to naturally rise dough and bake it in a wood-fired oven. Then, in 2012 Dane and his family moved to New Hampshire, and he set up the Canterbury Bread Shop at Brookford Farm.
To give you a few ideas for conversation, we recently caught up with Dane to learn more about his bread, including how exactly he most likes to enjoy it (hint: he's not worried about cholesterol). Here's what he had to say:
Medford Farmers Market: You have a science background. Did that have anything to do with your switch to baking bread?
Dane Percy: I have an B.S. in geology and chemistry and a M.S. in marine sciences. I trained mostly in analytical chemistry lab techniques, with some optics in there at the end. And for my MS I studied a lot of fermentation reactions (albeit in the ocean). Now that's the dominant theme in my life: bread fermentation.
MFM: Tell us a little about what fermentation means to you.
DP: I look at fermentation in an anthropological sense, meaning that before refrigeration, fermenting liquids and solids was probably the most common food preservation technique. Sandor Katz [see his books Wild Fermentation and The Art of Fermentation] has outlined thousands of fermentation techniques within cultures that span the globe. I consider myself in the same vein as that: continuing to do what peoples have done for a long time.
What I do, professionally with bread and personally with lots of other foods, would be very familiar to someone, say 200 years ago, but because of modern food technologies makes me unfamiliar to a common person today. And this idea goes beyond nostalgia as a motivation. I suppose, when I think of it critically, that I also believe there is a higher level of nutrition inherent in fermented foods because of the microbiology involved in the process.
MFM: Do you ever get tired of baking bread?
DP: When the bread is coming out well, I feel like I can do this forever. When the bread isn't the way I like it, I pine for other work. [Note from MFM: We always think Dane's bread is heavenly.]
MFM: If you could only share one thought about your bread with people, what would it be?
Stop being so afraid of bread (or gluten or whatever it is you are afraid of) and start enjoying it!
DP: What is your personal "most wonderful thing about bread"?
Slicing it thick, putting butter on top so thick it looks like cheese, sipping on strong tea, and knowing that those two pieces of toast will take me through until lunch, easily.
The best thing about bread (besides making it wobble under the weight of butter)? It is really easy to make! Sure, bread baking can also be a ridiculously exact science (that's how you get bread as good as Dane's), but anyone can produce warm, delicious sandwich loaves with little effort and no previous experience. Indeed, now's a perfect time to start! It's cold and snowy, and bread could be the perfect new hobby to help enrich these last weeks of winter. It will feed your body (and if you use Brookford's flour, it will feed you with local ingredients!) and your mind.
From kitchen chemistry to nutritious whole grains to the wild frontiers of fermentation to cooking on a budget, bread offers so many interesting possibilities for learning and exploring healthy eating. Bread baking also opens up exciting—and frugal—culinary options that depend on leftovers; Italian panzanella and American bread pudding are nothing but ingenious ways to use stale bread.
Dane says, "I think people would be surprised to know what bread tastes like again….I've had so many older people come to me and say, 'This is the bread I remember.' You too can find out what naturally leavened, wood-oven-baked bread made from locally grown and milled wheat tastes like—the next two Thursdays only, at the Medford Winter Farmers Market. Don't let this chance slip through your fingers!
– Submitted by Susan Altman. Courtesy photo.