Medford Little League Prepares for Second Season
|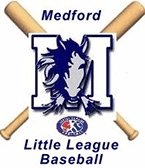 Register for the 2014 season THIS WEEK (before March 1st) to avoid the late fee. The managers will be selecting teams shortly after the tryouts.
Online registration, mail-in reg forms, required medical release forms, and photo waivers are in the handouts section on our website: http://www.MedfordLittleLeague.com
Opening Day is planned for Saturday April 26th
Our last February Margaritas fundraiser is Wednesday, February 26th. Please support our sponsors and your Medford Little League. See details on website http://www.MedfordLittleLeague.com
Tryouts
* Tryouts are for players born before 4/30/2007 interested in playing in Majors and Minors.
* Returning Major league players do not need to tryout.
* Players need only attend ONE of the tryout sessions.
* Bring a glove and if they have their own helmet and bat.
* Tryouts will be held in the Carzo Cage in Cousens Gym at Tufts.
Tryout Sessions
* March 15th (Sat) — Tryouts for 10-12 year-olds are 7:30-9:30 AM, 7-9's are from 5-7 PM
* March 19th (Wed) — Tryouts for 7-9's are from 6-7:30 PM, 10-12's are from 7:30-9 PM
* March 22nd (Sat) — Tryouts for 7-9's are 7:30-9:30 AM, 10-12's are from 5-7 PM
– Submitted by Stephen Braverman, Medford Little League, Information Officer