St. Ray's 5th & 6th Grade CYO Basketball Team Has Perfect Season
|
St. Raphael's boys 5th and 6th grade Bantam CYO basketball team remained undefeated on Saturday 2/22/14, beating St. Mary's of Winchester 47-45 in the championship game of the CYO North Shore League. St. Mary's came into the game with a 14-1 record, losing only to St. Raphael's earlier in the season.
The score seesawed back and forth the entire game; St. Mary's repeatedly keeping the game close. Under fierce St. Raphael's defensive pressure, St Mary's chances dwindled only as time ran out.
The confidence of St. Raphael's starting five grew late in the 2nd half, helped by Ryan Stewart's timely three pointers, Marcello Paulo's steady ball handling, and Kyle Nease, Jack Craven and Christian O'Brien's big points and rebounds. St. Raphael Coach Stewart also successfully used his bench of bigs – Philip Haberstroh, Mark Fantasia and Dominic Aliano – for rebounds and points, and gave the backcourt timely breathers with contributors Nick Limoni, Brandon Kierce, Teddy Cinella, and Michael Fagan.
"The team worked hard all year, which resulted in an undefeated season. It was a total effort with everyone contributing – I couldn't be more proud of this group of boys – they represented Medford and St. Raphael's parish with pride, heart and effort," said Coach Stewart.
Assistant Coach Billy O'Brien added, "I wouldn't want to change a thing from this season, the boys stuck in there under a lot of pressure and won."
The team enters the Eastern Massachusetts CYO Tournament; its first opponent to be played at Catholic Memorial is St. Mary's of Wrentham, Saturday 3/15 at 2:15.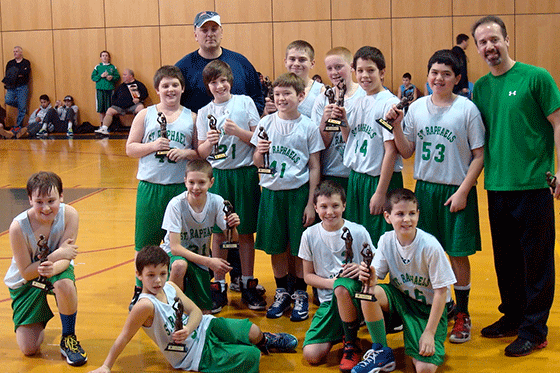 Front row, left-right: Ryan Stewart, Marcello Paulo, Nick Limoni, Brandon Kierce, Michael Fagan. Back row left-right: Dominic Aliano, Philip Haberstroh, Teddy Cinella, Kyle Nease, Jack Craven, Christian O'Brien, Mark Fantasia. Head Coach Bob Stewart. Assistant Coach Billy O'Brien.
– Submitted by Matthew Haberstroh