Sciortino Hopeful for Ban on Gay Conversion Therapy in MA, Across US
|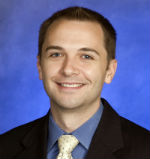 Representative Carl Sciortino (D – Medford/Somerville) is pleased that a bill he filed this session banning the usage of "conversion therapy" with minors advanced this week in the Massachusetts Legislature. On Monday, the Legislature's Joint Committee on Children, Families, and Persons with Disabilities issued a favorable report for An Act relative to abusive practices to change sexual orientation or gender identity in minors. The bill is now before the Joint Committee on Health Care Financing. "I am pleased that our bill was passed by the Committee, and I hope that it can move quickly to the floor of the House for a vote by the end of the year," said Representative Sciortino. "The primary aim of my bill is to protect young people from bogus and harmful pseudoscience that inflicts lifelong damage."
The bill would limit the usage of techniques that purport to impose change of an individual's sexual orientation or gender identity to only persons over 18, and licensed professionals who violate this proposed law would be subject to discipline by their respective governing licensing boards. Disciple could include suspension or revocation of licensure. Additionally, advertisement of such therapies for minors would be considered a deceptive practice under state business regulation laws, and state mandatory child abuse reporters would be compelled to report a known case where a minor has been exposed to conversion therapy. The bill does not prohibit legitimate therapies for young people that provide acceptance, support, and understanding of their sexual orientation or gender identity, including coping skills, social support, and identity exploration and development, which includes treatment of gender identity dysphoria for transgender youth seeking to transition.
Sciortino's bill is publicly supported by professional and child advocacy groups in the state including the Children's League of Massachusetts, the Massachusetts Society for the Prevention of Cruelty to Children, the National Association of Social Workers Massachusetts Chapter, the Boston Alliance of LGBT Youth, and many other advocacy organizations.
The Massachusetts bill is just one of ten other similar state bills filed across the country seeking to end conversion therapy with minors. Coincidently, last week the state of Washington's House of Representatives passed an almost identical bill to Sciortino's that is now before their state Senate for consideration. Bans on restricting conversion therapy passed and were signed into law in California and New Jersey in 2012 and 2013 respectively. Opponents of the bans are now seeking a ruling from the U.S. Supreme Court on whether the restrictions violate the first amendment rights of conversion therapy practitioners and those parents seeking to change their children's sexual orientation. In 2013, an appellate federal court found that the California ban does not violate the first amendment arguing that California has a legitimate reason and authority to protect young people from conversion therapy.
– Information from State Representative Carl Sciortino's office