Wilmington Tops Medford in Double OT Victory
|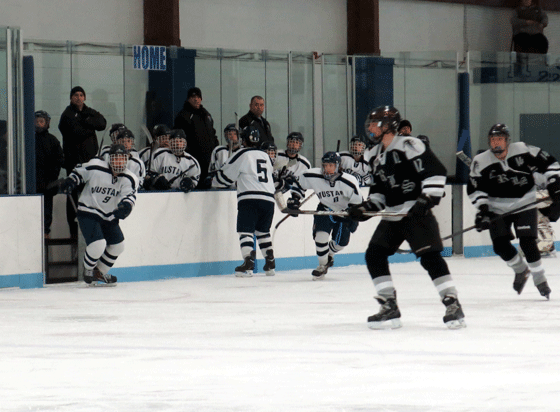 Cody McGowan fired a low, hard slapshot for the gamewinning goalmfor the Wilmington High School Wildcats with 2:27 left in double overtime in a 1-0 win over the Medford High Mustangs at the Chelmsford Forum Saturday night in the MIAA Division 1 North Boys State Hockey Tournament North Sectional Quarterfinal.
Wilmington improved to 14-3-7 with the win and moves on to play the winner of Arington-St. John's (Shrewsbury) on Wednesday night in Chelmsford in the North Semifinals. The season ended for the Medford High Mustangs, who finished at 13-6-3 overall under first-year head coach Shawn Bates. The two teams had plenty of chances as the game wore on, but both goaltenders, including Medford senior A.J.Ansaldi, were sensational as the team's battled through three regulation periods, then one overtime period, all scoreless. Medford nearly ended the game with an overtime win with 1:30 left in the first overtime when senior forward D.J. Galvin rung a shot off the Wilmington crossbar.
In the second six-minute overtime period, Medford and Wilmington skated in a 4-on-4 format. That, too was scoreless most of the way. Medford was then hit with costly penalty with 3:34 remaining in the second OT for too many men on the ice. Just over a minute into that penalty, with Wilmington skating on a 4-on-3 power play, McGowan buried the only goal of the game to end Medford's season send his Wildcat team into a wild celebration in the Mustang end of the ice.
Courtesy of Medford Daily Mercury. Photo by Allison Goldsberry