MVTHS Students Participate in SkillsUSA Competition
|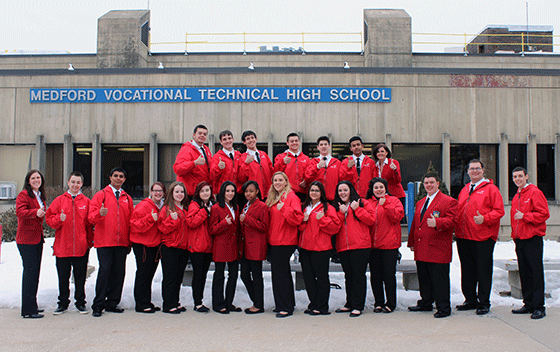 On Wednesday, February 26th, Ms. Amy Vos, SkillsUSA advisor, took 20 Medford Vocational Technical High School students to our first SkillsUSA district competition in over 25 years. Most of the students were sophomores and juniors because we are building the program.
"We had no expectations of placing as most of the schools (in the competition) have been members for 20-plus years," stated Mrs. Heidi Riccio, principal/director of the vocational school. "Our number one focus was to give the students a memorable experience."
The students and staff of MVTHS are ecstatic to report that we exceeded our expectations. While all of our students looked fabulous and did the very best they could, only the gold and silver medal winners are able to move on to the SkillsUSA state competition in April at the Best Western EXPO.
Michael Merchant, a senior in Construction Craft Laborers, won 1st place Masonry. Eric Bears, a sophomore in Construction Crafts, placed 2nd in the Masonry competition. Sophomore Sukhkaran Saggi took 2nd place in Graphic Arts. Senior Thomas (Noah) Charles walked off with 1st place in the Automotive Refinishing Technology competition. Issac Cardoso, a sophomore, represents the vocational school as State Delegate.
As you know, competitions cost money, unfortunately. However, we will be having fundraisers before April to ensure these students will be able to attend and compete against the other districts. We hope the school community as well as the general public will be able to support these fundraising activities in any way they can. The web address to provide more information for those interested in the SkillsUSA program and how to contribute: http://www.medfordpublicschools.org/2014/02/sponsor-a-skillsusa-student-today/
"I would like to thank Ms. Amy Vos for the preparation of the students, ensuring they are all dressed for success, and being an integral part of the MVTHS community. Without advisors for these organizations, our students would not have had this opportunity," said Mrs. Riccio. "We all are proud of our Medford Vocational Technical school students' success."
– Submitted by Heidi Riccio