Man Allegedly Attacks State Trooper on Rt 93 in Medford
|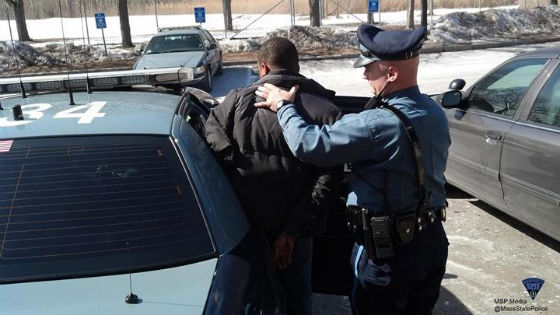 A state trooper places a Woburn man into a cruiser outside the Medford Barracks on Friday morning. The suspect is charged with attacking a trooper who responded to a minor crash on Route 93 in Medford. Photo courtesy MA State Police.
– Allison Goldsberry
A Woburn man was arrested Friday morning after he allegedly attacked a state trooper who responded to the scene of a minor crash between the man and another driver on Route 93 southbound in Medford.
According to Boston.com, the man, 30-year-old Nassive Palmer, was charged with two counts of assault and battery on a police officer, malicious destruction of property over $250, and resisting arrest.
State Police say Palmer became "uncooperative" with Trooper Nicolo Falco and tried to drive away from the crash scene. Falco, who discovered through a routine check that Palmer had an outstanding warrant, prevented him from driving away. Palmer then became "combative" and struggled with Falco, elbowing him, resisting arrest, and eventually causing both men to fall onto the hood of the suspect's van and onto the guardrail, according to State Police.
Another State Trooper arrived at the scene, Paul O'Connor. O'Connor and Falco got Palmer into the back of the cruiser, but he wasn't done fighting. Police say he kicked out the cruiser's passenger side rear window. The troopers then restrained him on the ground outside of the vehicle and a third responding trooper, Karl Johnson, secured Palmer's legs with restraints as Palmer allegedly continued to kick and butt his head. He was then transported to the Medford State Police Barracks.
Palmer was also charged on his outstanding warrant, which was issued out of Boston on March 5 for assault and battery. He was also cited for the minor crash that occurred before his alleged attack on the State Trooper.