MHS Grad Doubles Alumni Scholarship with Gift
|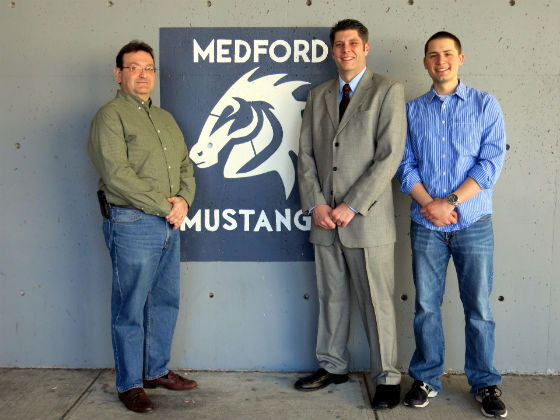 Medford High School graduate and newly elected City Councilor Adam Knight has made a generous contribution to the Medford High School Alumni Association (MHSAA). The 1996 MHS alum has donated $250 so the MHSAA can double the scholarship it is offering this year to a graduating senior to $500. The MHSAA is extremely grateful for Knight's thoughtful gift.
Picture (attached): MHSAA Board members Daniel Costello ('12) and Michael Cugno ('80) with Adam Knight (center) at Medford High School. Not pictured: MHSAA Board members Neil Osborne ('82), Allison Goldsberry ('99), and David McKillop ('11).
About the MHSAA
The MHSAA's mission is to support the current generation of Medford High School students and to create a networking base among all alumni.
About the MHSAA scholarship
The MHSAA is offering one (1) $500 scholarship to a graduating senior (Class of 2014) of MHS/MVTHS attending an accredited two or four year college/university or technical school in the Fall 2014 Semester.
Applications are available on the MHSAA website and at MHS. They are due on Wednesday, April 30 to Judy Sousa in the Guidance Office.
More information is available at www.medfordhighalumni.com.
– Information and photo from MHSAA