Sen. Jehlen Gives Update on Transportation Issues
|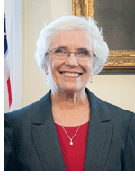 State Senator Patricia Jehlen (D-Somerville, Medford) provided updates on several important issues relating to transportation in her latest newsletter.
The Senate recently unanimously passed a transportation bond bill. According to Sen. Jehlen, the bill includes all of the money needed for the Green Line Extension- $1.3 billion.
"After over a decade of work by residents, advocates, elected officials and MassDOT staff, we are now significantly closer to the day when MBTA Green Line trains will open their doors to riders in Somerville and Medford," said Jehlen's newsletter.
In addition to the Green Line Extension money, the transportation bond bill also includes $2,750,000 for traffic signal and roadway improvements in Medford Square and at the intersection of Route 16 and Main Street.
On Wednesday a rally was held in support of the Safe Driving Bill, which Sen. Jehlen and Rep. Farley-Bouvier filed to give undocumented immigrants a special license with the goal of improving road safety and raising additional revenue for the RMV.
"Wherever you stand on immigration, I believe we can find common ground in this measure to train, license and insure every single driver in Massachusetts," said Jehlen.
The license would not be a valid ID and would only be used for driving and car insurance purposes. According to the newsletter the RMV believes the bill could lead to $15 million in new revenue.
– InsideMedford.com