GreenUp CleanUp Returns in Spring
|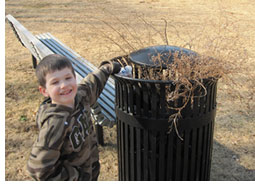 GreenUp CleanUp is Back and Wants You…
… and your ideas!
GreenUp CleanUp is organized by Grace Church to help clean up Medford's shared open spaces in partnership with the City of Medford. Since 2010 Grace Church has worked with the City of Medford, residents, and local organizations to clean up and improve our community's green spaces. GreenUp CleanUp activities have included such tasks as: cleaning trash off park trails in the Fells, spreading mulch and sand at parks (including Wright's Pond), removing graffiti, raking leaves in playgrounds, re-painting park benches and tables, and improving public garden space.
GreenUp CleanUp's coordinators are always looking for residents and local organizations who would like to partner with us this year. We are starting again in Spring 2014, which is right around the corner!
Typically the partnering person or organization picks a neighborhood park and determines what improvements are needed at that location. Then, they work with Grace Church organizers to pick a mutually agreeable date and time and to do outreach and advertising. The GreenUp CleanUp leadership team arranges for the City of Medford Parks Department to provide supplies and equipment and to pick up any trash, recycling, and yard waste at the end of the event.
Please join us for cleanups this year at:
Capen Street Park – April 5th, 9am-noon, joint with Tufts University
Mystic River Cleanup, Hormel Stadium – April 26, 9:30am-1pm – organized by Friends of the Mystic River
and Victory Park in May with Temple Shalom
Where else would you like to see organized community cleanups this year? Would your organization like to partner with us on a cleanup?
Please email questions, suggestions, ideas and comments to greenupcleanup@gracemedford.org
More information about GreenUp CleanUp is available at http://www.gracemedford.org/greenupcleanup/
– Submitted by Alicia Hunt