Tufts' Womens Basketball Team Advances to 1st Ever Final Four
|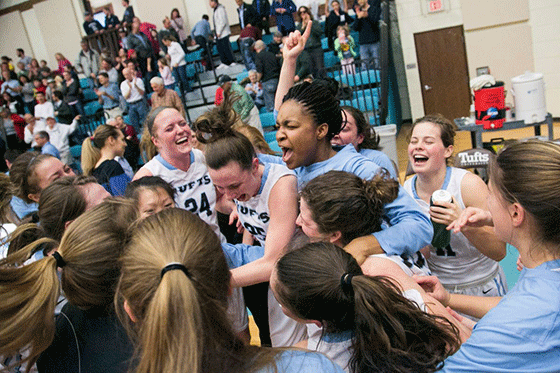 In a game that wasn't decided until the final tenths of a second, the Tufts University women's basketball team earned its first-ever trip to the NCAA Div. III Championship semi-finals with an exhilarating 61-59 victory over a never-say-die Ithaca College squad Saturday at Cousens Gym on Saturday.
Tufts led 58-50 with 1:16 remaining and then had to withstand three three-pointers by Ithaca in the final 64 seconds and a last-second drive to the basket by the Bombers that bounced off the rim.
The Jumbos (30-1) will play the undefeated FDU-Florham Devils (31-0), which hosted and won tonight's national quarterfinal over Montclair State 73-53, in the NCAA semi-finals at the University of Wisconsin-Stevens Point next Friday (Mar. 21). Game time is to be announced. Tufts was led today by 18 points, seven rebounds, four blocks and four assists from junior Hayley Kanner.
Ithaca, narrowly missing a chance to send the game to overtime, finishes its season at 26-5. The Bombers, who were making their first appearance in the NCAA Quarterfinals, received 21 points from senior Kathryn Campbell.
The visitors opened strong, as Ithaca took an 11-5 lead on a jumper by junior Geena Brady five minutes into the action. The Jumbos erased the lead quickly with a 9-0 run, including six points by Kanner for a 14-11 Tufts lead. That exchange would set the tone for a tightly contested first half.
The only two times the margin went beyond one possession in the final 11 minutes of the first half came on three-pointers by Mary Kate Tierney which gave Ithaca leads of 21-16 and 26-21. However, Tufts answered both times on their next trip down the floor and the Jumbos would lead 32-30 at the break.
Kanner had 14 of Tufts' points at halftime, shooting seven of 12 and adding five rebounds while blocking two shots. She was nearly matched by Tierney, whose three three-pointers in the first half helped her score 11 points.
The Jumbos looked to be pulling away as the second half wore on. Their lead was just two (39-37) after two free throws by Ithaca's Brady at 16:20, but first-year Michela North scored the next six points unanswered and the Jumbos led 45-37 at the 13-minute mark.
Both teams stalled offensively as the clock wound down under 10 minutes, but Tufts built its advantage to double figures when a three-pointer by senior Liz Moynihan made it 52-42 with six minutes left in regulation.
Campbell stepped up for the Bombers and hit huge back-to-back threes cutting the difference down to four at 52-48 with three minutes on the clock. The Jumbos would get six of the next eight points, led by four from junior Kelsey Morehead, for the 58-50 lead at 1:16.
Campbell drained another three, her fifth of the game, and it was 58-53 as regulation entered its final minute. Tufts couldn't put the win away at the free throw line, and Ithaca took advantage. A trifecta from senior Jenn Escobido with 19 seconds left turned it into a one-possession game at 59-56.
A third last-minute three by Tierney with eight seconds on the clock brought it down to a one-point lead for Tufts at 60-59. After Moynihan made one of two at the line for the Jumbos at 0:07, Ithaca's Ali Ricchiuti incredibly drove to the hoop and attempted a reverse lay-up that did not fall. North grabbed the rebound, giving Tufts the win.
Kanner and North (11 points, 7 rebounds) gave the Jumbos a huge advantage in the paint, where they out-scored the Bombers 32-12. Morehead finished with 14 points and three assits, while Moyihan had 10 points including three made threes.
Campbell was good on eight of 14 shots, including five for six on threes, for her 21 points. Tierney once again filled the stat sheet with 16 points, nine assists and six rebounds. Escobido recorded nine points, eight rebounds and two assists. The Bombers hit 10 of 18 three-pointers overall (55.6%) and out-rebounded Tufts 41-30.
– Information from Tufts University. Photo by Kelvin Ma.