Lady Mustang Hockey Team Wins Sportsmanship Award
|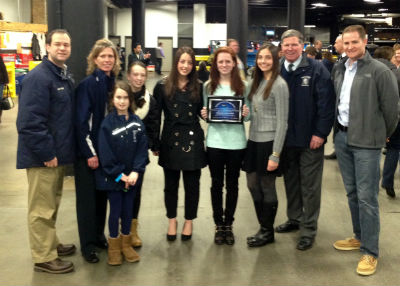 On Sunday, March 16th the Medford High girl's varsity hockey team was awarded the Mulloy Team Sportsmanship Award at the TD Garden. The award is presented annually to high school hockey programs that exemplifies the sportsmanship qualities of the late James F. Mulloy. Mr. Mulloy was the former head hockey coach for Everett High, Malden Catholic High, and Dom Savio High.
Of the 268 MIAA high school hockey programs in the state, the Mustangs are one of only four programs to receive to Mulloy Team Sportsmanship Award this year. The other three programs include the Barnstable and Norwood girl's teams and the Stoughton boy's team. Medford was presented the award on the TD Garden ice by McGlynn Elementary Assistant Principal Doreen Andrews. The Mulloy Team Sportsmanship award is named after Andrews father.
The Medford High girls varsity hockey team includes Trisha Maclean, Samantha McLaughlin, Julia Shanahan, Kaleigh O'Donovan, Nicole Mortell, Mia Price, Kayli Lanzilli, Brittani Lanzilli (captain), Mamie Powers, Jackie Holmes, Marykate Cullinane, Ashley Morris, Courtney Hardy, Riley Lynch, Olivia Maduro, Adrienne Porrazzo (captain), Ailish Fallon, Marissa Williams (captain), Alexandria Barilone, Giuliana Stanley, and Ashley Rodriquez. The Mustangs are coached by head coach Dave McCarthy and assistant coaches Rayanne Forbes and Josh Glionna.
– Submitted by Coach Glionna