Medford Dental Hygienist to Volunteer in Haiti
|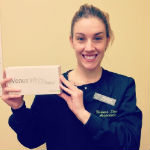 Medford resident Monique DesFosses is traveling to Haiti on a volunteer trip with Christian Haitian American Partnership.
DesFosses will be in Haiti from March 22 through March 28 to clean teeth in three villages and to also help in additional ways.
DesFosses is a dental hygienist at Varinos Dental Associates in Peabody. She is looking forward to teaching the people of Haiti, especially the children, about dental care and its importance.
DesFosses has also done volunteer work in Medford, including talking to children about the importance of brushing and flossing and giving them dental care packages. She enjoys her volunteer work and intends to do more in the future.
– InsideMedford.com