Lady Mustang Lacrosse Team Opens Season With Win
|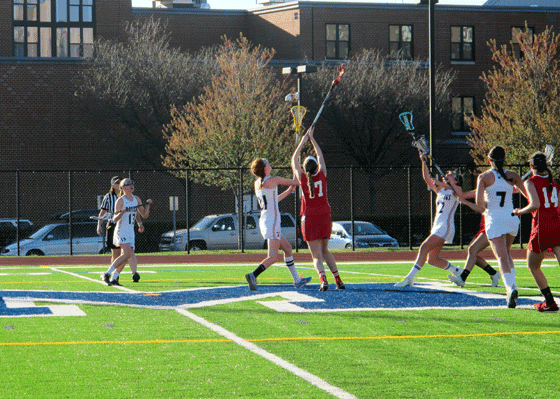 – Allison Goldsberry
The Lady Mustang varsity lacrosse team earned their first victory of the season with a 14-8 road win over Newton South on Friday.
"We transitioned the ball really well. We played as a team," said Head Coach Matt Galusi.
Hannah Gallup and Brianna Burke led the offense with four goals each. Nicole Mortell added two goals. Senior captain Jamie Traverse, Dominique Savoia, Adrienne Porrazzo, and Hailey Massa each contributed one goal.
Senior goalie Carolyn McCarthy "made lots of saves" and was "really good in net" said Coach Galusi.
"It was just an overall good, good opening day win for the girls," said Galusi. "It's nice to get that first win under the belt."
Despite the forecast the Mustangs are hosting a lacrosse jamboree on Sunday with sixteen teams. The event is taking place from 9AM to 4PM on the turf field behind Medford High School.