City Council Votes Against Brooks Estate Bond Request
|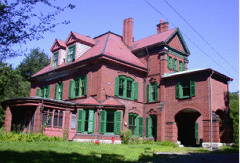 Story Updated 5:07PM Wednesday, April 2, 2014
Update– the City Council voted against the bond request for the Brooks Estate on Tuesday. According to City Councilor Breanna Lungo-Koehn, five councilors voted against the proposal. Councilor Robert Penta was the only councilor to vote in favor while Councilor Paul Camuso recused himself because his family owns property that abuts the Brooks Estate.
The Medford City Council is holding a Committee of the Whole meeting on Tuesday, April 1 to discuss a proposal to renovate the Brooks Estate.
Mayor Michael McGlynn has asked the Council to approve a $3.5 million bond to pay for the plan. The project includes improvements to the historic building as well as the road leading to it. More details are included in the master plan, which is posted on the Brooks Estate website.
According to website, the city has owned the Brooks Estate since 1942. In 1998 it became protected from development with a conservation and preservation restriction. The property includes acres of land, a manor, and a carriage house.
The meeting to discuss the bond is taking place at 5:00PM in Room 207 at Medford City Hall. Mayor McGlynn, Budget Director Stephanie Muccini Burke, Building Commissioner Paul Mochi, Fire Chief Frank Giliberti, Human Diversity Director Diane McLeod, City Solicitor Mark Rumley, and Medford Brooks Estate Land Trust (M-BELT) president Tom Lincoln have been asked to attend the meeting.
– InsideMedford.com