Lady Mustang Softball Team Earns 1st Win of Season
|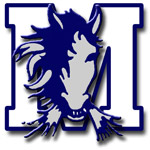 – Allison Goldsberry
The Medford High School girls varsity softball team opened up their spring season with a 12-4 road win over Matignon on Wednesday.
GBL co-MVP and MHS sophomore Ashley Eisnor pitched six innings, striking out twelve, walking five, and giving up just one hit, said Head Coach Jack Dempsey.
The Lady Mustangs banged out thirteen hits. Senior Sarah Donnelly, sophomore GiGi Braga, and juniors Hannah O'Leary, Brianna Napoleone, and Julia Kearney had two hits apiece. Donnelly had three RBI's while O'Leary, Kearney, and Napoleone each added two. Junior Cassandra Keddy, freshman Amber Harbison, and Eisnor each contributed one hit. Napoleone and Harbison had two stolen bases each.
The local nine will host a strong Revere team (with one of the top pitchers in eastern MA) on Friday at Columbus Park. First pitch is at 3:45PM.