RE/MAX Andrew Realty Services Realtors Receive Awards, Celebrate Anniversaries
|
10 & 15 Years Strong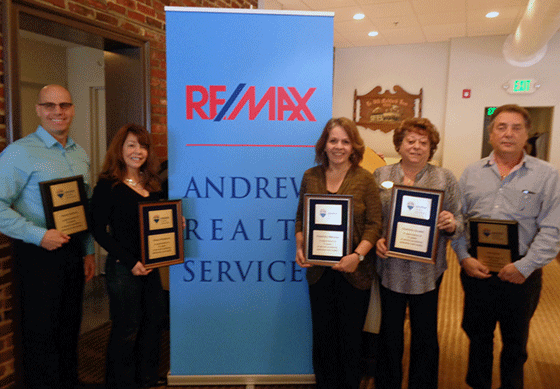 Happy Anniversary! Celebrating 10 and 15 years with RE/MAX Andrew Realty Services are from (left to right): Shawn Sullivan (10 years), Cheryl Pendenza (15 years), Rosemary Mahoney (15 years), Charlotte Alto Scuderi (15 years), and Paul Neves (11 years). "It's an honor to have these extraordinary, dedicated REALTORS® on our team and I truly appreciate their loyalty and service to our company and the community," said Broker Owner, John Veneziano. Missing from the photo are REALTORS® Donna Breen, Denise Delfino Gunn and Frank Scuderi (15 years) and Drew Hickey (10 years).
Greater Boston Association of REALTORS (GBAR) Honors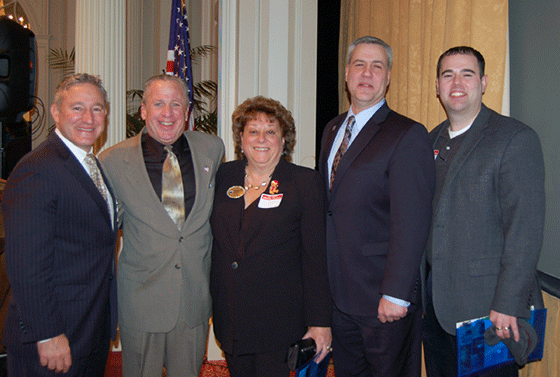 Congratulation to Scott David Cutler (2nd from left), a REALTOR® with RE/MAX Andrew Realty Services, who was recently awarded the Greater Boston Association of REALTORS® (GBAR) prestigious Life Membership Distinction. This honor is reserved solely for those REALTORS® who have been a Board member for a minimum of 30 years and moreover, consistently demonstrated outstandingand effective service to the Board and their profession. Cutler received the award at the GBAR® Annual Banquet and Installation of Officers where fellow RE/MAX Andrew Services REALTOR® Andrew Sarno (second from right) was installed as Treasurer of the organization. Also in the photo are Broker Owner John Veneziano (far left), REALTOR® David Ladner (far right) and REALTOR® Charlotte Alto Scuderi (center) who serves as 2014 co-chair of GBAR's Grievance Committee.
Pendenza Receives RE/MAX National Award
Cheryl Pendenza, a Medford resident and experienced REALTOR® with RE/MAX Andrew Realty Services, recently received the RE/MAX 100% Club Award, a national award that honors RE/MAX REALTORS®/Sales Associates for their outstanding real estate production achievements in 2013.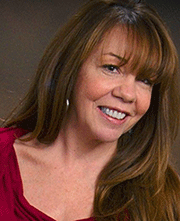 An active, accomplished REALTOR®, Pendenza recently celebrated her 15 year anniversary as a REALTOR® with RE/MAX Andrew Realty Services. She holds a degree in Paralegal Studies from Fisher College and has over 25 years experience in the real estate industry. Before enjoying a successful career as a REALTOR®, Pendenza worked as a paralegal in real estate law, and in the banking industry as a Manager of post-closing documentation, payoff and secondary market client services, and as an Underwriting Compliance Auditor. Presently, Pendenza also serves as RE/MAX Andrew Realty Services' company trainer of new agents, a role she has held for the past 10 years.
Pendenza is a member of a variety of professional organizations, including the National Association of REALTORS®, Massachusetts Association of REALTORS®, Greater Boston Real Estate Board, and the Medford and Stoneham Chambers of Commerce. She is a past member of the Women's Council of REALTORS® and the Boston Paralegal Association.
Throughout her 15 year career, Pendenza has won numerous awards for her outstanding real estate performance and achievements. She was a consistent award achiever within the ERA Real Estate Franchise in which her company belonged until 2011, and most recently, she was a 2012 RE/MAX Executive Club Award honoree.
An avid community supporter, Pendenza has been actively involved in a wide array of local organizations and activities over the years. She is one of the founding members of CACHE in Medford and has sat on its Board of Directors and served as Secretary of the organization since its inception. She is also a member of CACHE in Medford's Circle the Square committee. Additionally, Pendenza is a longtime member of the Saint Joseph School Enrichment Committee and a past board member of the Friends of the Medford Family Network. Supporting local business is important to Pendenza and she can often be found at one of the local restaurants, shops or galleries. Pendenza is also an active contributor to national charities, including Susan G. Koman and the Children's Miracle Network.
A lifelong resident of the Boston North area, Pendenza is a 30+ year member of the Medford community where she resides with her husband and two daughters.
RE/MAX Andrew Realty Services is proud to have Cheryl Pendenza, an award-winning REALTOR®, wife, mother and community supporter on its team.
– Information and photos from RE/MAX Andrew Realty Services