Lady Mustang Lacrosse Team Defeats Belmont
|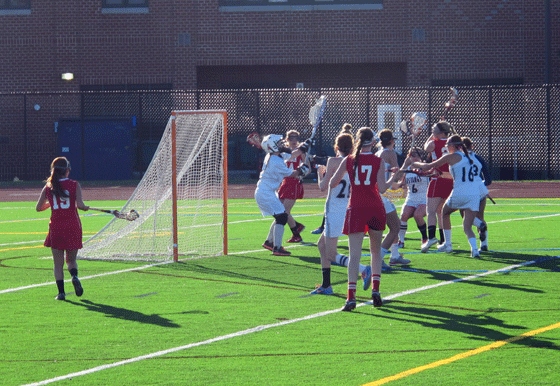 – Allison Goldsberry
The Medford High School girls varsity lacrosse team earned their second win of the season with an 11-6 road victory over Belmont on Monday.
Three Lady Mustangs had hat tricks (three goals each)- Hannah Gallup, Dominique Savoia, and captain Jamie Traverse, according to Head Coach Matt Galusi. Brianna Burke added a goal and Madison Carvello scored her first varsity goal.
"Defensively we were great," said Coach Galusi. Caroline McCarthy was "huge in net," making eleven saves for the Mustangs.
"It was a great team win. The girls picked each other up when they needed to," said Galusi.
Medford is 2-1 heading into its first GBL game at Malden on Friday.