Campbells: There is Not a Day That Passes Without Our Thinking of Our Daughter
|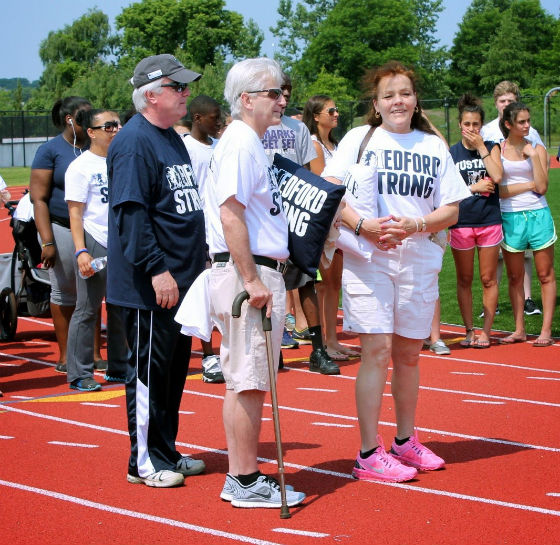 The family of Medford native Krystle Campbell has released the following statement as the anniversary of the Boston Marathon bombings approaches. Bill and Patricia Campbell are pictured above during last June's Walk for Krystle event, which raised money for a scholarship at Medford High School in her name.
The anniversary of the Boston Marathon bombings has focused the community's attention on the senseless pain that day caused so many. One year later, our entire family continues to grieve for the loss of our wonderful, smiling and vivacious daughter, Krystle Marie Campbell. There is not a day that passes without our thinking of our daughter, her life and how she contributed to the lives of our family and friends. We miss Krystle more than we can say.
Our entire family would like to say "thank you" to all the people who have shown their unending support for us during the most difficult of years. Friends and neighbors have been there for us over and over again. Complete strangers from around the world have reached out to us with incredible kindness. The outpouring of support from groups including the One Fund, the Boston Red Sox, the Boston Bruins, and the Harvard Business School community, as well as the greater Boston and Medford community, has helped our family through this extraordinarily difficult year. We have read every card and letter you have sent, and often yours are the words that carry us through the toughest days.
In addition, our family extends its thoughts to all of the other individuals and families who have been affected by the Marathon tragedy. We are amazed by your strength and perseverance.
We also would like to thank representatives of the news media for respecting our family's request for privacy during this difficult time.
In Krystle's memory, we established the Krystle Campbell Memorial Fund at The Boston Foundation in April 2013. Donations to the Fund will be directed in honor and remembrance of Krystle to charitable causes that are important to Krystle and our family, such as scholarships at Krystle's alma mater Medford High School, MSPCA-Angell, and organizations devoted to helping children with autism.
On behalf of our family, Krystle's close friends have organized and hosted a variety of events to promote donations to the Krystle Campbell Memorial Fund at The Boston Foundation. As part of these efforts, a team of 17 individuals – friends of Krystle and our family – will be running the 2014 Boston Marathon to honor Krystle and raise awareness of the Krystle Campbell Memorial Fund. The team will be wearing blue shirts, bearing the words "I run for Krystle."
To learn more about the Krystle Campbell Memorial Fund and our marathon running team, please visit the team's Facebook page and the Fund's page at The Boston Foundation.
We extend our sincere thanks to so many individuals. We love Krystle very much and she is forever in our memory.
-Bill and Patty Campbell
Medford, Mass.