1st Annual Krystle Campbell Softball Tournament April 26th & 27th; World Series Trophy in Medford
|
The Medford High School Girls Softball team will continue their fundraising efforts to benefit the Krystle Campbell Scholarship Fund as they officially kick off their season at the newly refurbished Columbus Park on Saturday, April 26th at 9:30 AM.
The softball team, coached by Jack Dempsey, will host the 1st Annual Krystle Campbell Softball Tournament, with games scheduled April 26th & April 27TH.
The high schools participating in the tournament are Medford High School, Arlington Catholic High School, Billerica High School and Swampscott High School. The schedule is as follows: Saturday, April 26th, 10 AM – Medford vs Billerica; 1 PM – Arlington Catholic vs Swampscott. Sunday, April 27th, 11 AM – Consolation Game & 2 PM – Championship Game.
The 2013 World Series Trophy will be on display at Columbus Park from 9 AM – 10 AM and later from 3 PM to 7 PM at John Brewers Tavern in Malden. Photos with the trophy will be available for a donation to the Krystle Campbell Scholarship Fund. Los Rubios, Medford High School's a capella group, will sing the National Anthem on Opening Day and will also perform at John Brewers.
"We hope to have a great crowd, not only to see the newly revamped park, but also to see some competitive softball games," said Coach Dempsey.
In addition, there will be a concession stand hosted by the Friends of Medford High Girls Softball.
Ads are being sold for a commemorative program book to benefit the Medford High School Girls Softball Program: Full page (5 x 7) = $100, Half Page (5 x 3) = $50 & Quarter page (3.5) = $25. Interested parties should contact Coach Dempsey at jdempsey@medford.k12.ma.us for further information.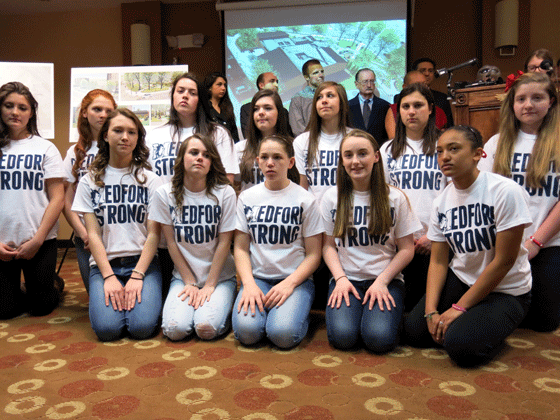 The Mustang softball team at a press conference on April 11th announcing the tournament and a Peace Garden that will honor Campbell and the other Boston Marathon bombing victims.
The softball team with Coach Jack Dempsey and Boston Marathon Race Director and Medford native Dave McGillivray at Medford High School earlier in the month.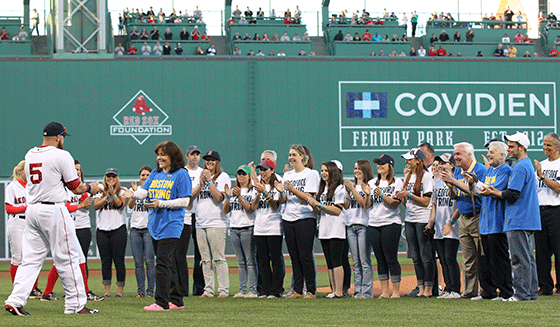 The team visited Fenway last year with the Campbell family after dedicating their season to Krystle. A winning streak and the first GBL title for the program in fifteen years followed.
– InsideMedford.com