Lady Mustang Lacrosse Team Defeats Waltham
|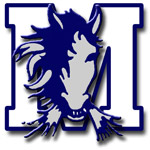 – Allison Goldsberry
After suffering their first and only loss of the season to Waltham, the Medford High School girls lacrosse team edged the team 12-11 in the rain on their home field on Tuesday.
"I'm so proud of this team…It was just an incredible team win in not ideal conditions," said Head Coach Matt Galusi.
Defender Adrienne Porrazzo helped seal the victory for the Mustangs when she scored after picking up a loose ball with just thirty seconds left in the game. Hannah Gallup and Nicole Mortell each had four goals and two assists while senior captain Jamie Traverse added three goals and an assist. Caroline Daly contributed a goal and an assist.
"We can score goals with the best of them," said Coach Galusi.
Goalie Caroline McCarthy made eleven saves and the rest of the defense "just dug in and refused to lose," said Galusi.
"The defense when we needed them today…they just stepped up," he said.
The 4-1 Mustangs host Cambridge on Wednesday and head to Revere on Friday.