Somerville Man Arrested for Unarmed Robbery of Brookline Bank
|
– Allison Goldsberry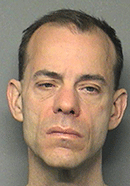 A Somerville man was arrested on Wednesday for an unarmed robbery of Brookline Bank in Medford Square, according to Medford Police.
Dennis Ryan, 43, was arrested just before noon and has been charged with unarmed robbery.
Police say he entered Brookline Bank on High Street around 11:30AM and passed a note to the teller demanding money. No weapon was shown. After running out of the bank he was seen by several witnesses running through Medford Square with a cloud of red smoke around him, which was emitted from the dye pack that had been with the money.
Witnesses told police they saw Ryan enter a gold pickup truck that drove up Boynton Road. Police say they found the truck in a driveway at 21 Rural Avenue. Police entered the house, spoke to people there, and gathered enough evidence to arrest Ryan.