McGillivray to Run His 42nd Boston Marathon in Support of Martin Richard Foundation
|
Dave McGillivray of DMSE Sports, Medford native and the renowned race director of the B.A.A. Boston Marathon, will run his 42nd Boston Marathon run – after everyone has crossed the finish line on April 21 and his work is done – to benefit the Martin W. Richard Charitable Foundation, which was formed by the parents of the 8-year-old boy killed at the Boston Marathon bombings last year.
"This is a wonderful foundation for a very special boy," McGillivray said. "I am proud to be running in his honor that day."
In a TV interview on Monday morning, McGillivray said he plans to begin the run at 7PM and hopes to finish by 11PM.
Donations to support the foundation can be made online.
McGillivray is pictured below with Coach Jack Dempsey and the MHS girls softball team at the recent Mustang Hall of Fame 25th anniversary banquet, where he was the featured speaker.
Also pictured: the finish line on Boylston Street Monday morning (courtesy photo).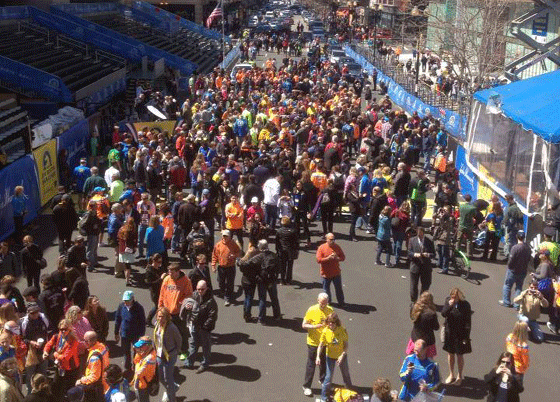 – InsideMedford.com