1st Annual Krystle Campbell Softball Tournament April 26th & 27th; World Series Trophy in Medford
|
Schedule changed due to rain- click for details
The Medford High School Girls Softball team will host the first annual Krystle Campbell Softball Tournament Saturday, April 26 and Sunday, April 27.
The tournament is taking place at the newly renovated field at Columbus Park. Mayor Michael McGlynn will cut the ribbon on the new field at 9:30AM and Krystle's family will toss out the first pitch at 10AM. Medford's game with Billerica will follow at 10AM and Arlington Catholic will play Swampscott at 1PM. On Sunday the winners of Saturday's games will play the championship game at 2PM while the consolation game will be played at 11AM.
On Saturday the 2013 World Series Trophy will be on display at Columbus Park from 9-10AM and later from 3-7PM at John Brewers Tavern in Malden. Photos with the trophy will be available for a donation to the Krystle Campbell Scholarship Fund. Los Rubios, Medford High School's a capella group, will sing the National Anthem on Opening Day and will also perform at John Brewers.
The softball team is pictured below with their coaches, Mayor McGlynn, and Krystle's parents Bill and Patty at Fenway Park with the World Series trophy.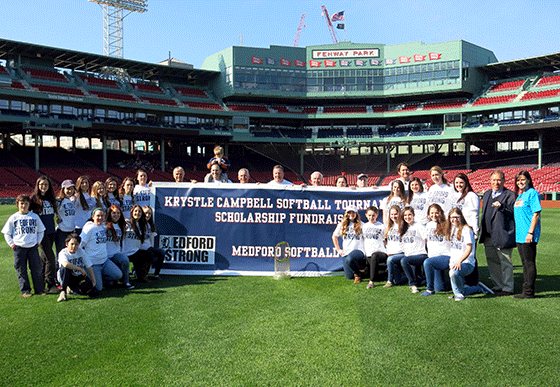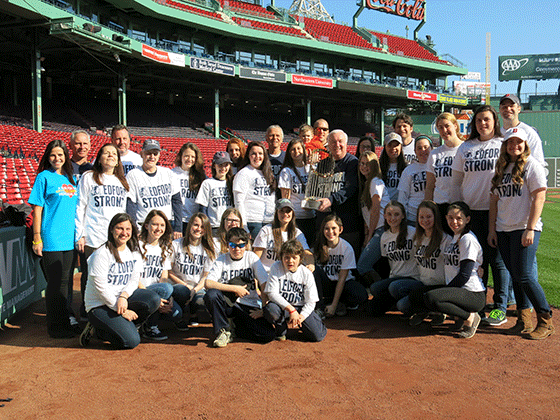 – InsideMedford.com