Mustang Boys Lacrosse Team Off to Strong Start
|
The Medford Varsity Boys Lacrosse have won four of their first five games, losing one game to Peabody by a heartbreaking goal.
The Mustangs won the home opener with with a 6-5 win over Manchester Essex, coming back from a 4-1 deficit at the half, and a 5-3 deficit at the start of the fourth quarter. Adam Gabaree and Erik Baptista each scored three goals, with Gabaree scoring the game winning goal with just 30 seconds remaining. Also contributing to the win with goals and assists were Michael Baruffaldi and Devin Newell, and a strong defense led by D.J. Galvin, Josh Nelson, Gino Fodera, Patrick McTague, and Adam Auditore. Andrew Modugno in nets kept the boys in contention and positioned for the win.
The team put forth a solid effort and won their first road game 12-6 over Methuen. After a 2-2 first quarter, Medford scored four unanswered goals in the second quarter and never looked back. Scoring was led with strong midfield and attack play by Newell, Gabaree and Brian Whooley, who scored the game winning goal. Also contributing to goal scoring were Sean Allen, Baptista, Connor Lonergan and Baruffaldi, who checked in with three assists. Solid goal-tending by Modugno ensured that Methuen had no chance to come back.
The Mustangs continued their strong offensive with wins against Malden and Lowell. They took their first loss of the season against Peabody at home in a nail biter that ended with Peabody in the lead 10-9.
The boys are looking forward to upcoming games against Cambridge, Shawsheen, Arlington, and a rematch with Lowell.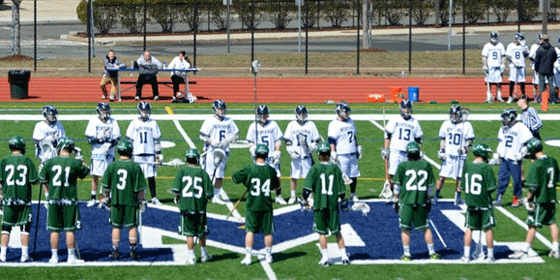 – Photos and information from Shirley Newell