McGillivray Runs 42nd Boston Marathon in Support of Martin Richard Foundation
|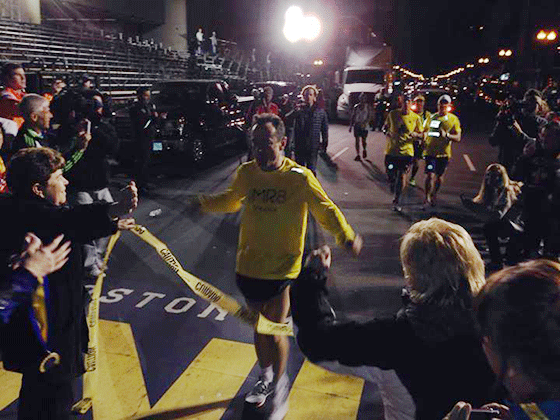 Dave McGillivray, Medford native and race director of the B.A.A. Boston Marathon, ran his 42nd Boston Marathon on Monday – starting at 7 p.m. after everyone else had finished and ending about four hours later – to benefit the Martin W. Richard Charitable Foundation.
McGillivray ran as part of Team MR8 to benefit the foundation, which was formed by the parents of the 8-year-old boy killed at the Boston Marathon bombings last year. His group raised more than $45,000 and is still accepting donations. To donate, visit the link set up at First Giving: http://www.firstgiving.com/fundraiser/charityteams/team-mr8-boston-marathon-2014.
McGillivray, president of DMSE Sports, was joined on his evening Boston Marathon run by Sean Ryan from Green Bay, Doug Kaplan from Chicago and others, including Josh Nemzer of the B.A.A., who ran 16 miles with them. The team was supported along the course by Bob McGillivray, Ron Kramer and Bob Myette.
"The 2014 Boston Marathon was one for the ages, it was simply epic," McGillivray said. "When we ran the course, it was dark and quiet – unlike earlier when I went through the course on the scooter the first time when there was about a million-plus spectators, there seemed to be about only 10 spectators along the entire course the second time through! Although I was tired when I started, it ended up being one of the easiest runs I've had in years. Now I'll start training for the Ironman!"
McGillivray is referring to his plan to return to Kona, Hawaii in October to participate in the Ironman Triathlon World Championship for the ninth time – but for the first time in 25 years.
McGillivray learned he had coronary heart disease last fall and has spoken out about getting healthy and going in for heart tests, even if you think you are healthy and in shape. He has lost 27 pounds, dropped his cholesterol level by over 70 points and has been following a very, very strict and healthy diet, which he credits as having given him his health back and now feels he is in his best shape in 15 years.
– Information and photo from DMSE Sports