Mustang Rowing Team to Host 2nd Annual Mayor's Cup Regatta May 17th
|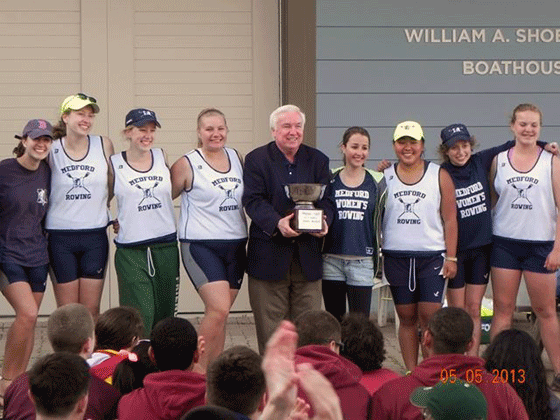 The Medford High School Rowing Team announces its sponsorship of the 2nd Annual Mayor's Cup Race on May 17, 2014 at the Tufts University Boathouse (300 Rivers Edge Drive), rain or shine.
"Organizing a regatta is a labor of love for the team and its supporters," says Head Coach Ed McCormick, "and it pays off in the community-building among the participating teams as well as an exciting competition for family, friends, and neighbors to attend."
Medford's Women's Varsity is defending its win of the 2013 Mayor's Cup. In addition to Medford High School (winners of the 2013 GBL Rowing Championships), crews from Worcester Academy, Vermont Academy, Bancroft Academy, Worcester Public Schools, Milton High School, Malden High School, Mystic Valley Charter School, and Souhegan (NH) High School are scheduled to participate.
For more details about the team, the sport, and upcoming events, please visit www.medfordrowing.org. To learn more about sponsoring the team and volunteer opportunities, please visit www.medfordrowing.webs.com.
– Submitted by Vicki Halal