Medford Community Park Cleanups Planned for May, June
|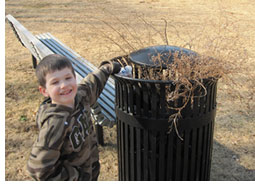 Medford Community Park Cleanups!
GreenUp CleanUp is organizing several community park cleanups this spring. Residents and businesses are encouraged to help improve Medford's open spaces at the following events:
Saturday, May 10, 10AM-Noon: Dugger Park – West Medford Moms Book Club & Titus
Sunday, May 18, 2-5PM: Victory Park – Temple Shalom
Sunday, June 1, 1-3PM: Logan Park – Boy Scouts & Cub Scouts Pack 416
Saturday, June 21, 1-3PM: Clippership Park – Grace Church sponsoring as part of "Into the Mystic" Environmental Art & Film Festival, meet at Mystic Art Gallery on Clippership Drive, behind Citizens Bank.
GreenUp CleanUp is an award-winning program organized by Grace Episcopal Church in conjunction with the City of Medford and partnering organizations. Typical activities include spreading mulch and sand, painting equipment, picking up trash and general gardening.
For more information about the program, or to co-sponsor an event, contact greenupcleanup@gracemedford.org or see http://gracemedford.org/greenupcleanup.
– Information and photo from Alicia Hunt