Cummings Foundations Awards $100K to Medford Boys & Girls Club
|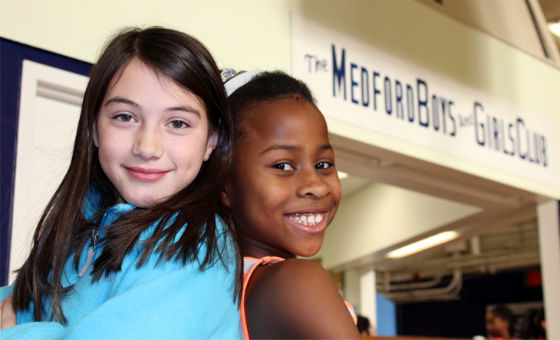 The Medford Boys & Girls Club will be able to welcome more Medford children as members and expand its educational programming next fall, thanks to a $100,000 grant from the Cummings Foundation.
The grant, part of the Cummings Foundation's $100k for 100 program, was obtained by the Friends of Chevalier Auditorium and Gene Mack Gym. The Boys & Girls Club is located in the Gene Mack Gym, part of the Chevalier Auditorium complex on Forest Street in Medford Square. The club is part of the Boys & Girls Clubs of Middlesex County, which also serves youth at clubhouses in Somerville, Cambridge and Everett.
For several years the Medford club has operated at its capacity of 120 members, with dozens of children on a waiting list to join. The Cummings grant will allow the club to add staffing to accommodate 30 more members, and make the club's Education Program Coordinator a permanent, paid position. That role was introduced for the current school year and filled on a volunteer basis by a Massachusetts Commonwealth Corps service member.
The Education Program Coordinator focuses entirely on improving and expanding the academic and educational programs at the Medford club, which provides Medford children age 6 to 14 with a wide range of activities from art to physical fitness to citizenship. The educational program includes grade-specific structured homework help, which occurs daily for a minimum of one hour and is manadatory for club participation. Additionally, the Education Coordinator connects the club to the Medford Public Schools so that club programming aligns with the goals and needs in the classroom.
"It breaks our hearts to have to turn away a child who wants to become a member of the Boys & Girls Club," said Lindsay Smythe, Executive Director of the Boys & Girls Clubs of Middlesex County. "We are extremely grateful to the Friends of Chevalier for initiating this grant request on our behalf and to the Cummings Foundation for providing this crucial funding to allow us to open our doors to more Medford children. Equally important, being able to sustain our Education Program Coordinator position will ensure a community-wide effort to improve academic achievement for some of Medford's most vulnerable youth."
The grant for the Boys & Girls Club is the largest single donation received by the nonprofit Friends of Chevalier Auditorium and Gene Mack Gym, which since 1993 has worked to foster financial and community support for the historic facility. The auditorium memorializes World War I aviator Godfrey Chevalier and the gym is named for longtime Boston Globe sports cartoonist Gene Mack. The Boys & Girls Club, which opened in Medford in 1992, has operated out of the Gene Mack Gym since 2001.
"We appreciate the Cummings Foundation's support of so many Medford organizations through its $100k for 100 program, and especially for recognizing the crucial role that the Boys & Girls Club plays in the positive development of young people in our community," said Cynthia Watson, co-present of the Friends of Chevalier. "The mission of the Boys & Girls Club is to inspire all youth to be responsible, caring and productive citizens, qualities no better demonstrated than by Bill and Joyce Cummings and their foundation."
Now in its third year, the Cummings Foundation's $100K for 100 program awards $10 million in grants annually to nonprofits that are based in and primarily serve Middlesex, Essex and Suffolk counties. The foundation aims to give back in the area where it owns commercial buildings, all of which are managed by its affiliate Cummings Properties. Founded in 1970 by Medford native Bill Cummings, the Woburn-based commercial real estate firm leases and manages more than 10 million square feet of commercial space, including two office buildings on Boston Avenue in Medford.
The Medford Boys & Girls Clubs was selected from more than 430 applicants during a very competitive review process. This year's diverse group of grant recipients represents a wide variety of causes, including underserved populations, education, healthcare, hunger relief, and homelessness prevention. Most of the grants will be paid over two to five years.
"We are delighted to support very worthy nonprofits like the Medford Boys & Girls Club that are working tirelessly for the benefit of the people they serve," said Joel Swets, executive director of the Cummings Foundation.
Representatives from the recipient organizations will be invited to attend a Grantee Reception on June 2 at TradeCenter 128 in Woburn to celebrate the $10 million infusion of funding into greater Boston's nonprofit sector. The complete list of 100 grant award winners will be released that evening, and will be posted at www.CummingsFoundation.org.
– Submitted by Ken Krause