Mustang Baseball Team Closes Season With Win
|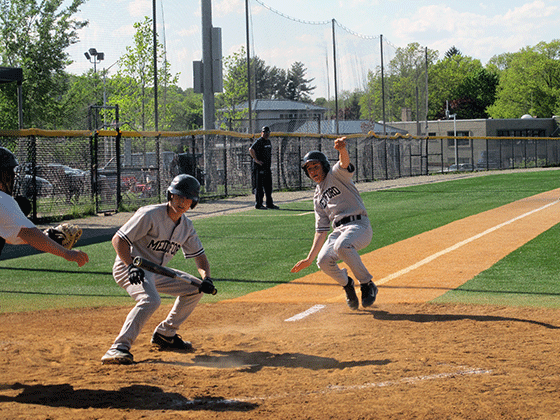 On Thursday senior Kevin Andrew pulled off a suicide squeeze play like this one against Malden last season.
– Allison Goldsberry
The Medford High School varsity baseball team closed their regular season with a 5-2 win over Stoneham on Thursday.
Senior Justin Alley got the win on the mound while junior Shawn Normile picked up the save in 1 1/3 innings of relief. In only his second varsity start, Alley allowed three hits and gave up no earned runs.
"Justin pitched a gem," said Head Coach Mike Nestor.
Senior Kevin Andrew executed a suicide squeeze, which led to two runs. Junior Andrew Cronin contributed an RBI single.
The Mustangs finished 6-2 in the Greater Boston League and are GBL co-champs with Cambridge. According to Head Coach Mike Nestor, it has been decades since the Mustang baseball team has won back to back league titles.
Medford is 14-6 overall heading into the state tournament. Baseball seedings will be available on Tuesday.