Carnival Returning to Medford
|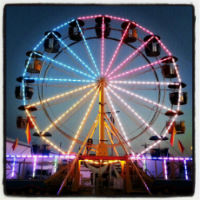 After a long hiatus, the carnival is returning to Medford, according to an announcement from Mayor Michael McGlynn on Wednesday.
"We welcome Fiesta Shows back to our community in order to raise funds to re–establish Medford's Community Day Celebration, which will be held this fall," said the Mayor in a statement.
The carnival, hosted by Fiesta Shows, will take place in the City Hall parking lot from Thursday, May 29th through Sunday, June 1st.
The Mayor said coupons for the carnival will be printed on the back of a flier about the city's Memorial Day service that is going home with school children.
The carnival has not taken place in Medford since 2005, following an incident in which several Medford Police officers were assaulted.
– InsideMedford.com