John & Yoko Looking for Homes
|
John and Yoko!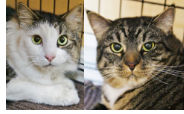 Hi! We are John and Yoko, a brother and sister combo who are looking for a home together. We were surrendered to Kitty Connection because our elderly owner has moved to a home that does not allow pets. He sadly gave us up so that we can go on with our lives in a new, loving home. We are friendly and lovable, but a little scared right now. We are 4 years old, in excellent health and John, who is white and grey, has super double front paws! I, Yoko, am a grey tabby and sport only an extra thumb. We are real sweethearts and want to be part of your loving home.
About Kitty Connection
Kitty Connection is a no-kill, all volunteer rescue based in Medford and dedicated to helping animals in need. KC provides foster homes for them until they are adopted into loving, forever homes.
Cats/dogs are sometimes temporarily staying at foster homes away from the area.
For more information or to make an appointment to see the animals, call 781-393-9995 or email kc@kittyconnection.net.
For more animals or to see videos, check out http://www.KittyConnection.net!
– Information and photos from Kitty Connection