Medford, Malden Softball Teams League Co-Champs
|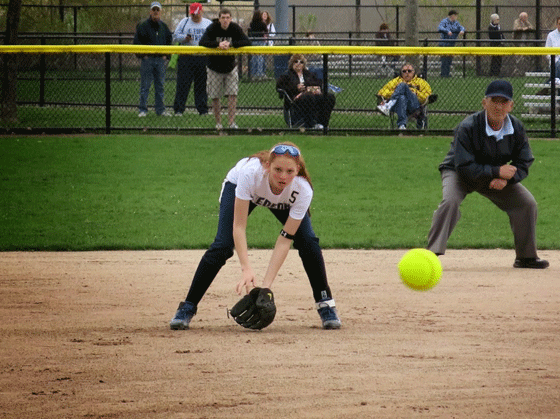 – Allison Goldsberry
The Medford High school girls varsity softball team earned an 11-6 come-from-behind home victory over Malden on Saturday morning, which leaves them as GBL co-champs with their arch rival.
Medford was behind by five runs in the first inning when junior Bailey Flynn and sophomore Renee Staude doubled and singled to start things off. Sophomore Ashley Eisnor brought Flynn home on a fielder's choice and a sharp single by Gigi Braga scored Staude, according to Head Coach Jack Dempsey.
In the bottom of the third inning Medford "exploded" for eight runs, with everyone contributing, said Dempsey. The big hits of the inning included two run two base hits by Eisnor and junior Julia Kearney and a long triple by junior Hannah O'Leary that drove home a pair of runs. O'Leary also added a second three bagger later in the game.
Flynn and Braga each had four hits in the game along with a pair of RBI's and two stolen bases. Staude, Eisnor and O'Leary each contributed two bingles while Kearney, Brianna Napoleone, and Damari Grossi also had a hit each.
Eisnor picked up her tenth victory of the season, giving up seven hits, walking one and striking out seven. Mary Donnelly and Napoleone both made outstanding defensive plays.
Medford is 6-2 in the GBL and 10-6 overall heading into the final three games of the season, including a double-header on Memorial Day.