'Batter Up for Billy Night' June 20th
|
– Ron Giovino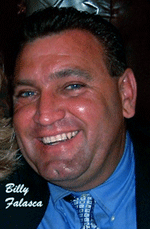 The family and friends of Billy Falasca are holding two events to remember Billy and help raise funds to support The Medford Invitational Tournaments, Inc. and the Heart Association. This Saturday, May 31st, the 2nd Annual Falasca Run will once again be held in Medford. Hundreds of motorcycle enthusiasts will start at Raso's Grille and head north to celebrate the life of their great friend, Billy Falasca and raise money for two great causes. Ask anyone at the event and they will tell you multiple stories of how Billy was there for them whenever they needed him. Whether it was some emergency plumbing issue, a gas leak, or as simple as needing someone to talk to, Billy was there. Billy loved biking and this is a perfect way to celebrating two of his passions, riding his motorcycle and helping people.
I met Billy more than a quarter of a century ago on a baseball field shared by our sons. Billy and his wife Patti were very involved in the North Medford Little League program back in the day. Billy not only coached the team, but he did whatever it took to make the experience of youth baseball special for the kids and for Billy it was about ALL the kids. My favorite memory of Billy was when we were done at Gillis Park and the Little League District was giving us a hard time because the lights at the field were not up to spec. While we were trying to figure out how we could afford such an upgrade, Billy was on the field practicing his Lions team. After his practice, Billy came by to see what the discussion was about. After a brief explanation of the problem, Billy started to fix it. The very next day, Billy had his brother Harry and a team from Mass Electric at the park with bucket trucks cleaning, adjusting, and replacing the lights and bringing them up to spec. Billy always did it without fanfare.
Eight years ago, the Medford Invitational Tournament initiated the Challenger Day event. The Challenger Division of Little League Baseball provides children with mental and physical disabilities the opportunity to play baseball. We were talking about the event at our weekly breakfast at Bickford's. Billy turned to me and said, "Get me a letter!". With that Billy began his mission of raising money for the Challenger athletes. His only condition, he said…."that money goes to the Challenger kids!" The money he raised was overwhelming, but in typical Billy style, he never once let us thank him publicly for what he was doing. That is the Billy Falasca we knew and loved.
Two years ago, Billy passed away suddenly. In his memory, Patti Falasca and the Falasca Family has graciously chosen the Medford Invitational Tournament to partner with on a very special fund raising event to honor the memory of Billy Falasca.
In his honor, the MIT and the Friends and the Family of Billy Falasca are holding The Batter Up for Billy Night, a very special evening of fun, food, and prizes with all proceeds to go to the MIT Challenger Day Event.
Last year's event was an amazing tribute to Billy and this year, his wife, Patti, has promised an even bigger and better time. The "Batter Up for Billy" event has been moved to Anthony's in Malden to accommodate the many people who couldn't get tickets last year.
The Batter Up for Billy Night will be held on June 20th at Anthony's in Malden
Tickets are going fast. Please check out the MIT website (www.mitbaseball.com) and the Batter Up for Billy Facebook page for details on ordering your tickets.
It really is the event of the Summer! Don't Miss It !!!