Chiefs Open Season on Sunday at Tufts
|
By Bruce Tillman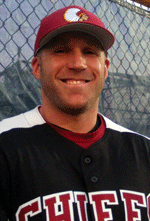 The Andre Chiefs will begin defense of their regular season pennant when they open the 2014 Intercity League schedule on Sunday (June 1) against the Watertown Reds at Tufts University's Huskins Field at 5:00 PM.
Several new face returning from the professional ranks have been added to the Chiefs' roster led by North Medford's own Johnny Welch (pictured). Welch, who starred at both Malden Catholic and St. Anselm's College, returns to Medford after spending the last seven seasons playing pro ball in the both the Frontier and Can-Am leagues. Over that time Welch has appeared in 461 professional games and racked up 75 homers and 262 RBI. His career average as a pro was .274.
In additional to Welch, other newly acquired Chiefs returning from professional baseball include; former Everett High football and baseball standout Matt Nuzzo, who spent three seasons with the Toronto Blue Jays after starring at Brown University, former Washington Nationals and UMass 6'5 left-hander Mitchell Clegg (Arlington Catholic/Woburn, MA), who spent the last four seasons in the pro's and Salem, New Hampshire southpaw Eric Perrault, who just wrapped up a stint with the Arizona Diamondbacks.
In addition to the newcomers, returning veterans include former Minnesota Twins shortstop and 2012 ICL Triple Crown winner Juan Portes, Peter Copa (UMass/California Angels), five time ICL all-star and former Merrimack captain Mike Andre of Medford, outfielder Tony Serino (UMass/Saugus, MA), Medford's Matt Boleski, Mike Barbati (Endicott/Melrose, MA), Nick Leva (Southern New Hamshire/Cambridge, MA), Paul Yanakpooulos (UMass/Medford, MA), Nate Witkowski (Bentley/Melrose,MA), Anthony Carbone (UMass/Stoneham, MA), Dan Bonito (Northern Essex/Swampscott, MA) as well as catchers Chad Connor (Texas Tech/San Francisco Giants/Bristow, OK) and Jon Byrne (Eckerd/Arlington, MA).
In addition to Clegg and Perrault, the pitching staff is solid with reigning ICL MVP Jared Freni (UMass/Malden, MA) leading the way. Freni enjoyed one of the best seasons in ICL history last year when he posted a perfect 13-0 mark that included a miniscule 0.54 ERA. Other mainstays include brothers and former Malden Catholic stars Mike (UMass/Winthrop, MA) and Matt (Framingham St/Winthrop, MA) DiCato, lefty Tim Dunphy (Brandeis/Cambridge, MA) Everett's Rob Machado and former Arlington Catholic southpaw Evan Walsh of Medford, MA, who pitched for Bentley University this past spring.
Other new additions to the roster are: outfielder Mike Burgoyne (Keene St/Medford, MA), infielders Cecillio Guante (Bunker Hill CC/Salem, MA) and Adam Lucey (Fisher/Malden, MA).
Manager Chuck Andre (Boston College/Medford, MA), who has a career record of 546-305 and five ICL championships, will pilot the Chiefs for his 24th season. The former Chiefs right-hander will be assisted by Paul Crisafulli (NEBI/Medford, MA), John Veneziano (Westfield St/Medford, MA) and Steve Calabresi (UMass/Stoneham, MA).
Following Sunday's game, the Chiefs will host the Melrose Americans on Monday at 8:00 PM at Maplewood Park on the campus of Malden Catholic.
The Chiefs have won 18 league championships since 1960 under both the Hosmer Chiefs (1957-1984) and the Andre Chiefs (1989-present).
The Chiefs' entire schedule, roster, and team information, can be found on their website at: www.andrechiefs.com.