Coughlin Receives 1st Ever Krystle Campbell 'Medford Strong' Spirit Award
|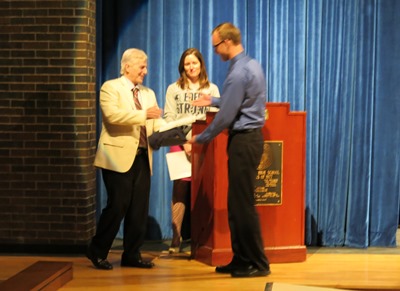 Medford High School senior Patrick Coughlin is the first ever recipient of the newly established Krystle Campbell "Medford Strong" Spirit Award.
The Krystle Campbell Medford Strong Spirit Award is for a student-athlete and/or band member who displays a strong work ethic, kindness, community spirit, and a passion to help others. The $1,500 scholarship is in memory of 2001 MHS graduate Krystle Campbell, a young women whose smile, huge heart, and warm personality brightened the lives of her family and friends. This award is given on behalf of the Campbell family and the Medford community to an individual who truly embodies what it means to be "Medford Strong."
Patrick is a member of the MHS band, a 3-sport athlete (cross country, indoor & outdoor track), a 4-time captain, 5-time GBL All-Star, and top state performer in the pentathlon. He has been accepted to the US Coast Guard.
Patrick is pictured receiving his award from Krystle's father, Bill Campbell.
– Information and photo from Medford Public Schools