Somerville Resident to Kick Off Campaign for State Rep
|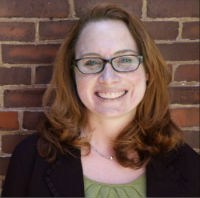 Somerville resident Christine Barber is officially kicking off her campaign for state representative on Tuesday night, according to information released by her campaign.
Barber is Vice Chair of the Ward 4 Democratic Committee and a leader in the Progressive Democrats of Somerville, a group that has helped to elect Democrats at the local and state levels. For the past seven years, Christine has worked at Community Catalyst, a national health care advocacy organization, as a Senior Policy Analyst. She has served as Research Analyst for the Committee on Health Care Financing in the Massachusetts State Legislature and worked on the state's landmark 2006 health care law. Barber earned her Masters of Public Policy and Administration from the University of Massachusetts Amherst and her Bachelor's degree from the College of the Holy Cross in Worcester.
Her campaign kick off is taking place at Sabur Restaurant in Teale Square in Somerville from 5:30-7:00PM Tuesday night.
Barber is running for the state representative seat for Medford and Somerville previously held by Carl Sciortino. Medford residents Nick Lanzilli, Erin DiBenedetto, and Sharon Guzik have also launched campaigns.
– InsideMedford.com