Homeless Man Arrested for Stabbing
|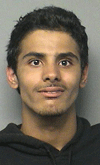 – Allison Goldsberry
A homeless teen has been arrested for stabbing another teen on Sunday afternoon, according to Medford Police.
Aidan Rollins, 18, is accused of stabbing his 19-year-old victim following a verbal dispute. Police say Rollins went to a house on Harvard Street where the victim had been hanging with friends and allegedly stabbed him in the torso and arm.
The victim chased him before collapsing in the driveway of the Kennedy School Condominiums. The victim was taken to Massachusetts General Hospital for emergency surgery. He is still in the hospital and his condition is unknown.
Rollins has been charged with assault and battery with a dangerous weapon (knife), armed assault to murder, and assault with a dangerous weapon.