City Council to Review Budget for FY 2015
|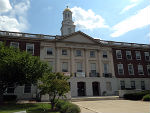 The Medford City Council is in the process of reviewing the budget for fiscal year 2015, which begins July 1.
Budget hearings are scheduled for June 10, June 11, June 12, June 16, and June 17, according to information posted on the city website.
The entire proposed budget for next year is $150,842,701, which includes $51,158,000 for the public schools and $99,684,701 for municipal services. The current year's budget is $144,466,771.
The entire proposed draft city budget is included in the City Council's agenda.
– InsideMedford.com