Tufts Makes 1st Payment on New Partnership Agreement
|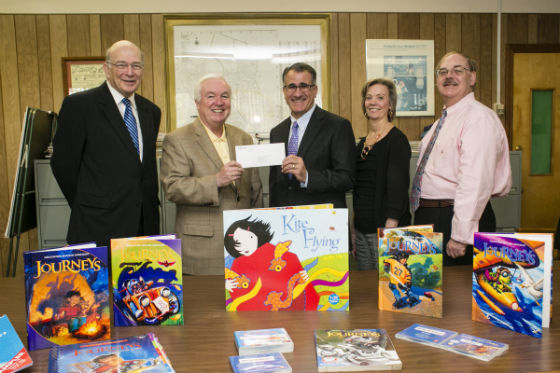 Tufts University President Anthony Monaco presented the City of Medford the first payment on the new five-year Partnership Agreement between Tufts and the City. The agreement totals $1.375 million over five years. President Monaco accelerated the payment schedule and provided the City of Medford the opportunity to spend $500,000 in this first year for academics, athletics and student activities.
The new literacy program for the Medford Public Schools is now possible because of the accelerated donation, at a cost of $250,000. In addition, the Partnership Agreement also provides SAT prep programs for Medford High School students. Students are already being recruited now for the summer session, known as Let's Get Ready.
Pictured left to right: Mr. Roy Belson, Superintendent of Schools, Mayor Michael J. McGlynn, Mr. Anthony Monaco, President, Tufts University, Ms Diane Caldwell, Assistant Superintendent of Schools and Mr. Robert Emmet Skerry, Jr., Medford School Committee.
– Submitted by Mayor McGlynn's office. Photo by Alonso Nichols, Tufts University