Alfonso, a.k.a. Fozzi
$25.00 June "Adopt a Cat Month" Donation!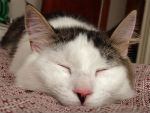 Hi! My name is Alfonso, but my foster people have been calling me Fozzi for short. I am about 7 months old, have very soft medium to long hair, and am incredibly handsome. I was living outside not that long ago and am leery of people, but my foster parents have been very patient with me and I am learning to trust them slowly. Their two cats definitely help me feel more comfortable.
While I like it here, I'm looking for a home and family to call my own. I will need a special situation that is mostly quiet and calm, has a friendly cat or two, and has patient humans. In time I will be a great cat for you and a great companion to your cat. I LOVE to play and am food motivated. I purr very loudly when I let my guard down and allow my foster people to pet me. My long fur will need regular brushing so I don't get any mats, but it'll take a bit of time for me to trust you to do that.
If you think we would be a good fit for each other and you would like to meet me, please contact Kitty Connection to set up a time to come to my foster home in East Arlington.
About Kitty Connection
Kitty Connection is a no-kill, all volunteer rescue based in Medford and dedicated to helping animals in need. KC provides foster homes for them until they are adopted into loving, forever homes.
Cats/dogs are sometimes temporarily staying at foster homes away from the area.
For more information or to make an appointment to see the animals, call 781-393-9995 or email kc@kittyconnection.net.
For more animals or to see videos, check out http://www.KittyConnection.net!
– Information and photos from Kitty Connection