What to do About 'Excessive' Noise from Airplanes
|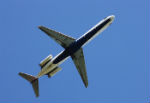 In response to recent complaints, the city has posted information on its website for residents to complain about airplane noise.
Massport, the agency that runs Logan Airport, has an online complaint form. New users will have to register prior to filling out the form.
Massport also has a Noise Complaint Line, (617) 561-3333. The line is staffed on business days between 6AM and 5PM.
More details are available on the City of Medford's website.
– InsideMedford.com