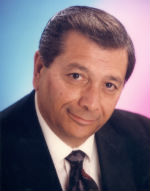 Anthony J. Ruggieri, of North Reading, formerly of Medford, died peacefully with his loving family at his side in his final hours on Monday. He was 80.
Tony was raised in Medford, the son of the late John and the late Phyllis (Cefalo) Ruggieri. After graduating Medford High School with the class of 1951, Tony served with the Air Force in the Korean War. A butcher by trade, Tony worked with his father and then branched off on his own opening the Prince Market in Everett while at the same time earning a degree from Cornell University. With his degree and natural business acumen, Tony became the New England District Manager for the Southland Corporation, opening their first 35 stores in the region. After being stricken ill, Tony focused on his recovery and served as a consultant in the food retail and wholesale industry, especially to Bianco and Sons. Tony later opened his own restaurant, Ruggieri's Happy Haddock in Medford. With his wife and sons at his side the local eatery became a regional landmark. After closing in Medford, Tony ventured into Lynnfield where they again operated Ruggieri's at the Ship on Route 1. A devoted family man and friend, Tony will always be remembered for his kindness and loyalty.
The beloved husband of the late Teresa (Logue) Ruggieri who passed away in 2010, Tony leaves his loving sons: John and his wife Kathleen of Chelsea and Anthony Jr. and his wife Karen Marie of North Andover. He leaves his loving grandson Tyler Ruggieri. Tony was the dear brother of Phyllis Ann Masterson of Charlotte, NC and the late Johanne Chiappini as well as a dear brother-in-law to Connie Rosati of Medford and Patrick Logue of Valley Village, CA. He also leaves many cousins, nieces, nephews and friends.
Relatives and friends are respectfully invited to visit at the Dello Russo Funeral Home, 306 Main St., Medford, on Sunday from 4 – 8 PM and again on Monday morning, June 30th at 10 followed by a funeral mass celebrated in St. Joseph Church, 118 High Street, Medford, at 11 AM. Services will conclude with burial at Oak Grove Cemetery, Medford.
Donations in Anthony's memory may be made to the Dr. Roman DeSanctis Legacy Fund at Massachusetts General Hospital, MGH Development Office, 100 Cambridge St., suite 1310, Boston, MA 02114.
– Submitted by Dello Russo Funeral Home