Library Dedicated in Memory of Helen Lenox McGlynn
|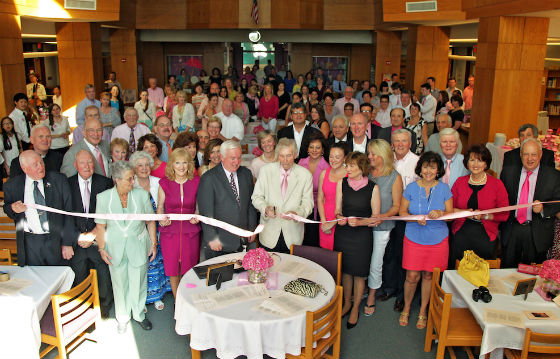 On Sunday, June 22, 2014, (5) days prior to what would have been her 93rd birthday, the McGlynn Elementary & Middle School communities came together to dedicate the library in memory of former First Lady, Helen Lenox McGlynn, wife of former Medford Mayor John J. "Jack" McGlynn, who passed away in November of 2013.
Speakers included: Mr. Jake Edwards, Principal, McGlynn Middle School, Ms Diane Guarino, Principal, McGlynn Elementary School, School Superintendent Roy Belson, and City Council Vice President, Richard Caraviello. Mayor Michael J. McGlynn officially dedicated the library in his mother's name and his niece Kristina Devine read a poem she had written especially for this occasion. The Gold Medal winning McGlynn String Ensemble provided musical selections and Mrs. Amy Jayne McCabe, sang the National Anthem, Gentle Woman, Danny Boy, and God Bless the USA.
In attendance were all of Helen and Jack McGlynn's children: John J. Jr & his wife Diane, Richard & his wife Paula, Karen McGlynn Devine, Kevin McGlynn, Mayor McGlynn & his wife Sheila and Bernadette & Jon Davis, along with many of the grandchildren, great grandchildren, nieces and nephews. Helen's siblings, Peter & Rita Lenox, Joseph Lenox and Pauline Davis attended as well.
Members of the Medford City Council in attendance included: Council President Paul Camuso, Councillor Caraviello and Councillor Michael Marks. Members of the School Committee in attendance included: Ann Marie Cugno, John Falco, Paulette Van der Kloot, and Robert Emmet Skerry, Jr, along with Assistant Superintendent Diane Caldwell & Deputy Superintendent Beverly Nelson.
– Information from Mayor Michael McGlynn's office. Photo by Steven Eliopoulos.